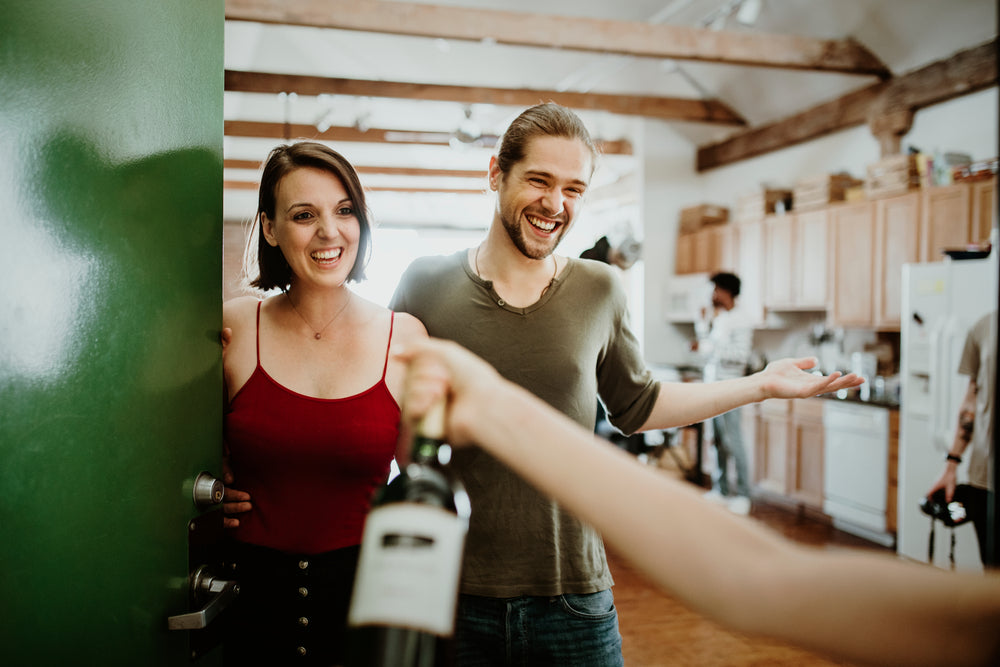 Housewarming Gifts They'll Actually Use
Moving into a new home is a big deal, especially for those becoming independent for the first time. That's why housewarming parties are an occasion to look forward to; you get to be part of someone's new adventure.
Housewarming gifts—unlike other gifts—require some extra thought. After all, you want to equip the new homeowners with things they'll actually use and enjoy. Here's a comprehensive guide to housewarming gifts for anyone in your life, especially those who are particularly fond of wine.
Wondering what the best housewarming gift is? A good housewarming gift must be thoughtful and practical. It can be as simple as a dish rack or as luxurious as a robot vacuum cleaner. The secret is to use your own experience at home to solve problems that you know the newlywed couple or the new tenants will face.
Housewarming gifts should also be personal. After all, it's nice to be remembered when someone uses an item you picked out just for them. And what's more personal than a bottle of wine?
Housewarming Gift Ideas
Wine and the accessories that make wine fun are lovely housewarming gift ideas—but so are other clever kitchen gadgets. Here are some unique gift ideas, from high-end wine glasses and decanters to cutting boards and other kitchen essentials.
If you're a wine enthusiast, these items will help you share your passion for wine with those you care most about.
Housewarming Gifts for Wine Lovers
Choosing gifts for wine lovers is not an easy task. That's because wine enthusiasts prefer different types of wine. despite their differences, all wine lovers can appreciate the following wine-related gifts:
Wine Glasses. High-end wine glasses—especially those that are mouth-blown and made with crystal—are more than a means to an end. They're collectors' items that are great to have around the house. A set of white wine glasses is a great start. The Mineralité from Grassl's Vigneron Series, for example, works wonders with white, rosé and youthful red wines.
Decanters. A decanter is an ideal housewarming gift; every wine lover needs one. Decanters aerate wine, helping it to "breathe" and open. They can also help separate well-aged wine from its deposits. These days, you can decant nearly any type of wine and produce great results. The Grassl Vigneron Series Decanter is elegant and doesn't require much storage space. It's perfect for smaller, cozy homes.
Bouchon wine stoppers. If you've poured more than a couple of wine bottles in your lifetime, you know preserving opened bottles is paramount to maintaining the wine's taste. That's why wine stoppers are incredibly useful. A bouchon for a decanter is also a fantastic gift for wine lovers, primarily because it helps keep decanters clean and ready to use.
Housewarming Gifts for Newlyweds
Looking for a housewarming gift for the newlywed couple that has a special significance? Wine gifts are an excellent way to honor the couple. They can host dinner parties, toast to special occasions, and wind down after a long day at work. Here are some of our top recommendations for newlywed housewarming gifts.
Grassl's Newlywed Kit is the perfect gift for married couples. It contains two versatile wine glasses, two Champagne glasses, two stemless water glasses, and a handy carafe. We're sure you'll appreciate the kit's versatility, and so will the lucky newlyweds.
Housewarming Gifts for People Who Love to Entertain
These are the right housewarming gifts for couples who love to bring joy to friends and family by hosting sophisticated dinner parties and wine tastings.
Carafes. Carafes, unlike decanters, have multiple purposes and take up less space at the table. Carafes are ideal if you need a vessel to serve water or aerate wine but don't want to bring out a formal decanter.
Cutting boards. Nice cutting boards, like our Caro Caro Grooved Boards, make cooking more exciting. If they're nice enough, you can even use them at the table for serving cheese, fruit, and other handheld snacks.  
Cocktail napkins. You'll be surprised that even the most uncomplicated items can make a big difference when entertaining. Cocktail napkins, for example, are a thoughtful gift that the couple will surely appreciate for years to come. Check out some of the beautiful sets we have in stock!
Housewarming Gifts for the Couple That Has Everything
Not all couples start a new journey with nothing but the clothes on their backs; some couples seem to have everything already. This doesn't mean you can't find a good housewarming gift for them. Here are some gift ideas for the hard-to-buy-for couple in your life.
Rocks glasses. Rocks glasses are in vogue, and it's because they're perfect for serving cocktails, spirits, soft drinks, and even wine. We know what you're thinking—yes, it's acceptable to serve wine in rocks glasses.
Upgraded Wine Glasses. It's one thing to have just any wine glasses at home and another entirely to have professional stemware that's suitable for the nicest of wines. Upgrading to artisanal, crystal wine glasses is something even the couples who have everything will appreciate.
Voyager Travel Case. If you genuinely want to make an impression, give them the opportunity to travel luxuriously with Grassl's Voyage Travel Case. It includes four mouth-blown wine glasses the couple is sure to love.
Tips for Giving the Best Housewarming Gifts
It's not about you. Buying a housewarming gift is personal. When choosing one, we often think about what we need at home and not necessarily about the couple's wants and needs. That might not be the best approach. Be thoughtful and think about the couple's interests, then use your own experience to choose the perfect gift.

Make it personal. Although robot vacuums and tea towels are great gifts, they say little about you and how well you know the recipient. Ensure your housewarming gifts have a personal touch to make the best impression.

Follow up. Don't just get something nice. Ensure the couple finds it useful by showing them how to use it. A decanter is a lovely gift, but it's not very practical unless you know what it's for and how to use it. Simply taking a few minutes to show them the ropes will make all the difference.