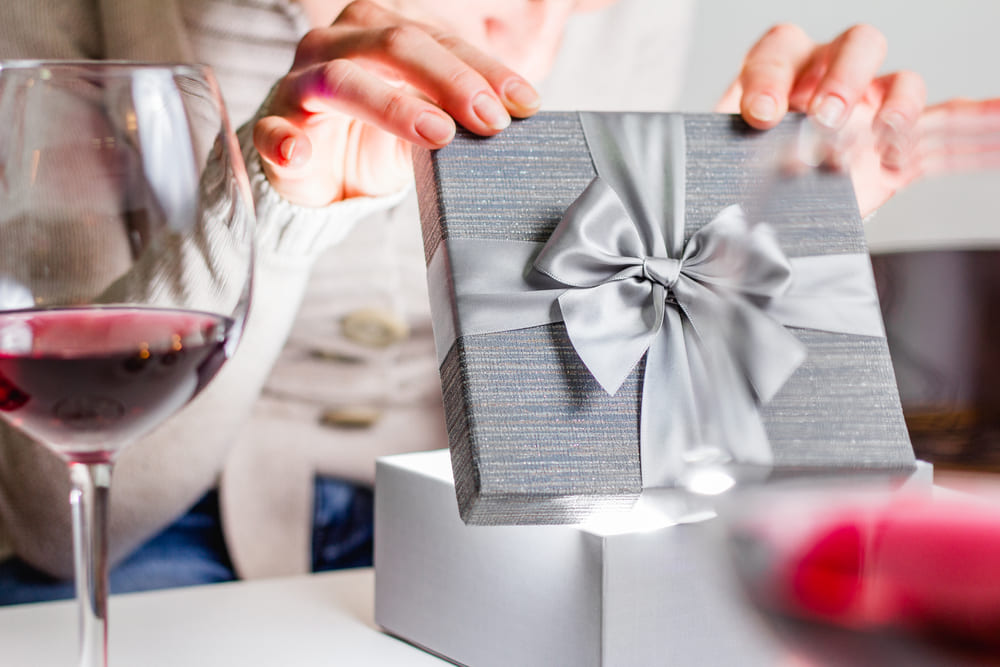 Why Glass & Crystal Gifts Are Perfect For Any Occasion
Glassware is a wonderful gift. After all, we use it every day. And although most cups and glasses in our cupboard are not particularly special, except for our favorite coffee mug, crystal stemware and other fine glassware are different—they're special.
Fine glassware is the perfect gift for any occasion because it makes events memorable and helps create memories around the table. Fine stemware, shiny tumblers, decanters, and other beautiful pieces can turn dinner into a party. 
You should gift crystal to your loved ones at every opportunity. This is the type of gift no one expects, but everyone appreciates—and here's why.
What Does It Mean To Gift Glass or Crystal?
Fine glass and crystal have special symbolism. Gifting stemware to newlyweds, for example, is a way to tell the couple that they are now responsible for hosting their own parties and entertaining their friends and family, a big deal in our society.
At the same time, gifting crystal stemware is a way to say 'give yourself time,' 'take care of yourself,' and 'enjoy life.' And that's a universal feeling you'll want to share. After all, crystal gifts invite unforgettable moments around the table! Gifting crystal pieces is undoubtedly a way to show someone you care.
5 Reasons Glass And Crystal Items Are Good Presents
1. They're functional and beautiful.
Glass and crystal are beautiful materials; fine glassware stands out for its looks. Wine glasses and other crystal glasses are not only lovely pieces to have at home, but they're useful too!
2. It's memorable.
Glassware creates special occasions. It's the type of gift people use repeatedly and will bring endless hours of satisfaction to those receiving them.
3. Fits different budgets.
Glass and crystal are not always expensive. From mouth-blown wineglasses to fun and functional rocks glasses, there's glassware for every budget. However, well-made glassware at all price points is a thoughtful gift.
4. Timeless and durable.
Fine glassware is timeless — this is art we're talking about, chiefly when handmade by true artisans. And although glass seems fragile, fine glassware is durable, and you can enjoy it for many years. 
5. It can be personal.
Gifting crystal can be a personal touch, what you'd do for someone that means something to you. At the same time, this type of gift can also be impersonal but formal; glassware is the perfect gift for your business partners, co-workers, customers, and suppliers.
Glass & Crystal Gift Ideas For Any Situation
These are the most popular glass and crystal gifts. Find the right one for you and ensure you pick the perfect gift every time.
Wine Glasses
Gifting stemware is an easy decision, especially if the recipient enjoys wine, even occasionally. A wine glass set is perfect for newlyweds and housewarming parties, too, but even lengthy marriages can renew their glassware once in a while. 
Tumblers
Tumblers are versatile; you can use them every day and on special occasions, not just for wine but for a wide range of drinks. This makes tumblers an excellent present for friends, family, and even those not all that into wine. Everyone needs a good set of tumblers; besides, they are fantastic corporate gifts.
Carafe
A carafe is a great vessel to serve wine, juice, punch, and many other drinks while elevating the dining experience. Casual but nice-looking carafes are an excellent gift for people that often entertain, enthusiasts of dining alfresco, and people with roommates or large families. Carafes are fantastic housewarming gifts that say, 'join us at the table.' Consider pairing it with a large cutting board for a fantastic gift for anyone who loves to entertain! 
Decanter
The decanter is the king of glassware. This specialized piece of equipment is also as beautiful as crystal gifts get. Every wine lover needs one of these, and they're particularly appreciated by those getting started in the wine world. Decanters are lovely anniversary, wedding, and birthday gifts, especially if you gift them with a bottle of fine red wine.
There's a glass or crystal gift for every budget and occasion, and these gifts are consistently among the most memorable. If you're still not sure which gift to choose, a glassware gift card is a thoughtful present that lets the recipient choose their own special piece. If you struggle with choosing gifts in your personal and professional life, gift glassware; make it a habit.