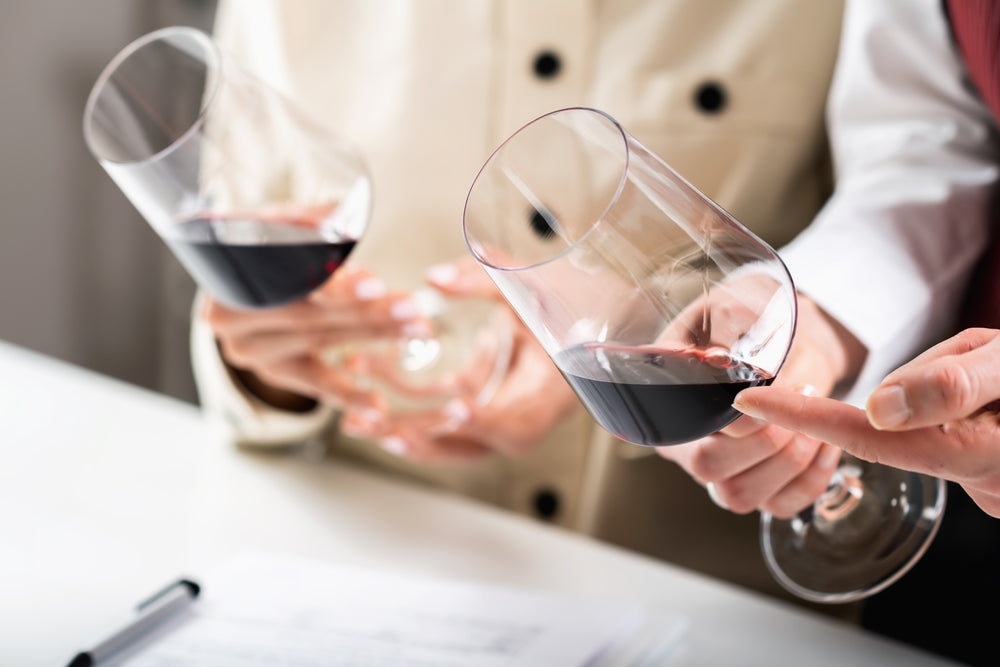 Wine Varietals vs Blends: What's the Difference?
Varietal wines have been dominating the market for a few decades. Most bottles on store shelves have the grape used to make the wine printed on the label. But this wasn't always the case. In fact, varietal wine is a relatively new style. For thousands of years, wine was made by blending grapes. It turns out blends are back in fashion. Let's discuss the difference between varietals vs. blends.
Whether you enjoy varietal wines or exciting blends, you can unleash your wine's full potential by enjoying them in fine glassware. Grassl is one of the few producers worldwide crafting mouth-blown crystal wine glasses. Authentic artisan pieces are designed to satisfy the most discerning wine enthusiasts. Explore our glassware collection if you haven't already.
What Are Wine Varietals?
Varietal wines are made with a single type of grape, also called a varietal. In most countries, producers are legally required to use a single grape for at least 80% of the wine to label it as such. Varietal wines are nothing new. Many traditional European wine regions produce a single grape, like the French Beaujolais and its Gamay or Burgundy and Pinot Noir (for their reds). However, naming the varietal on the label wasn't common until recently.
Other classic wine regions have always labeled their wines according to the grape used to make them, like Germany and the German-influenced Alsace in France. Wine producers in the New World also preferred to label their wines for their grapes, mainly to help an inexperienced market distinguish one bottle from another.
Nevertheless, not all wines are varietals. There are dozens of wine styles made with a combination of grapes, including Champagne, Bordeaux, Châteauneuf-du-Pape, and Rioja. Blends are as typical as varietal wines, and they're equally charming. So what's the difference?
Red and White Wine Varietals
To understand the difference between varietal wines and blends, let's cover the most typical wines in each category. It takes work to make wine with a single varietal. After all, wine is a complex beverage that should be balanced in terms of acidity, alcohol, sweetness (or lack thereof), and mouthfeel.
Few red grapes produce balanced wine consistently without the help of auxiliary grapes. Cabernet Sauvignon, Merlot, Pinot Noir, Syrah, and Malbec are the most common varietals bottled independently. However, France is one of many sources of well-rounded grapes. Italy has Sangiovese, Nebbiolo, Aglianico, and many others that are typically bottled as varietals.
White grapes can also be bottled as varietals, provided they have the complexity and acidity needed to make a balanced wine. Chardonnay, Riesling, Sauvignon Blanc, Chenin Blanc, Trebbiano, Albarinho, and Muscat are some of them.
Wine Blends
Wine blends exist for several reasons. For starters, the vineyards weren't planted with a single varietal in the early days. Field blends were the only way to make wine, which resulted in wines that expressed the land well, even if made with a combination of grapes of all profiles and colors.
Blending grapes became a type of insurance in some regions, most notably Bordeaux. Since varietals ripen at different stages, planting distinct varietals ensured some varietals would survive even if rain and hail damaged one grape's crop.
Finally, blending grapes is a smart way of combining them to result in something greater than the sum of its parts. Some grapes are naturally tart while others have high pigments and tannins. Some grapes bring roundness to the table, while others provide structure. Producers can craft complex and balanced wines by reliably blending wines made with different grapes.
Notable wine blends include the Champagne blend—especially the combination of Pinot Noir and Chardonnay to make sparkling wine—the GSM blend (Grenache-Syrah-Mourvedre) used in Côtes du Rhône, Châteauneuf-du-Pape and Paso Robles, and the Bordeaux blend—made of any combination of Cabernet Sauvignon, Cabernet Franc, Merlot, and Petit Verdot.
Pros and Cons of Varietals and Blends
So, what's better: a pure-breed varietal wine or a creative blend? They can be equally enjoyable, and there's no reason you shouldn't enjoy both. However, you can learn different things from each.
Varietal wines offer the unique opportunity of tasting a grape on its own and learning from it. Doing so repeatedly will help you identify wines on taste alone. After all, wine made with Cabernet tastes nothing like wine made with Pinot Noir. Varietal wines also show how the grapes behave in different climates and soils. On the other hand, varietal wines lack the complexity of blends and can fall short in terms of acidity, tannins, or aromatic complexity if the grapes aren't balanced.
Blends are like blank canvases for creativity. Producers can blend different grapes to achieve exciting results, compensating one grape's weakness with another and compounding their strengths. Aromatically, blends tend to be more complex. When done right, they're perfectly balanced in all aspects. On the downside, blends tend to be more manipulated than varietal wines, so they don't offer the same clarity in terms of terroir. They can be more influenced by the winemaker than the land. Do you prefer varietal wines or blends? Which wines are your favorite?