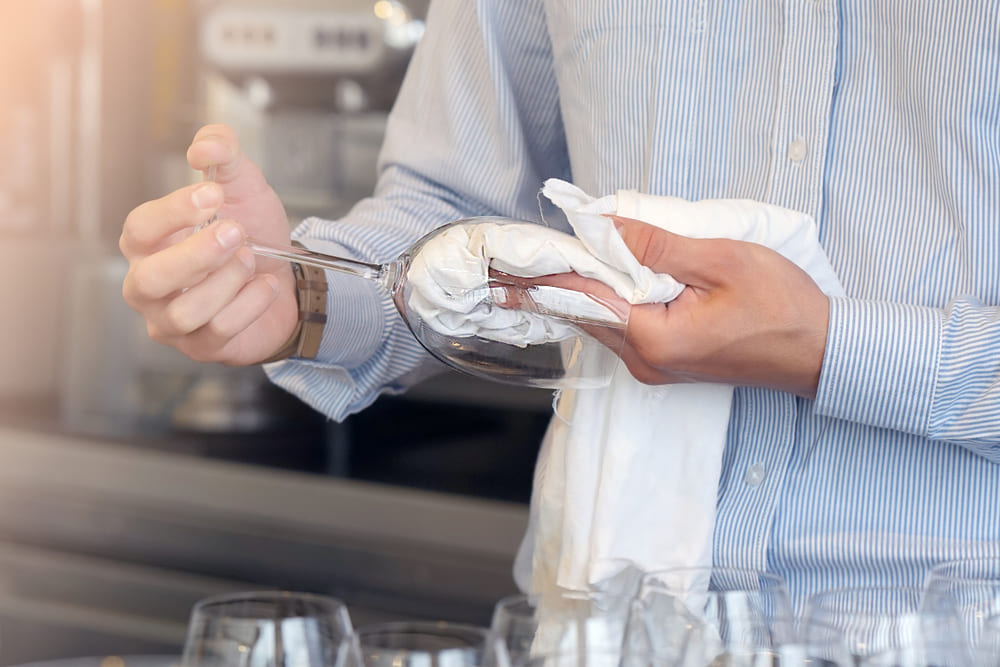 How To Polish Wine Glasses, The Right Way
Glassware has become more sophisticated and harder to take care of—these are artisanal pieces we're talking about. Of course, once you elevate your wine experience with nice-looking glassware, you'll want to ensure it stays in good shape.
Polishing wine glasses is not a common topic, not even in dedicated wine circles. Still, knowing how to polish glass is the difference between making the most out of your glassware collection and serving wine in opaque wine glasses. Let's talk about your new best friend, a reliable polishing cloth. The following tips will help you maintain your Grassl wine glass collection for years.
Why Polish Wine Glasses?
Glassware is relatively delicate. The finest wine glasses are made with either leaded or non-leaded crystal, and although these materials are stain resistant, they can get cloudy over time, and if you are not careful, these stains can be tricky to remove. Not polishing your stemware after washing can cause water spots, dulling your glassware over time.
Polishing wine glasses is a habit that can keep your glassware collection as good as new. While the process is pretty intuitive, there are a few tips that can help you polish all types of stemware safely and effectively.
Read on and become a glass polishing expert. Have an XL polishing cloth handy and get ready to polish glasses like a sommelier.
How To Polish Wine Glasses
Rinse your wine glasses after every use before the wine dries and leaves residue. Hand wash your stemware when possible, ideally with warm water, and use odorless soap when necessary.

Air dry your stemware upside down on a rack and polish once dry.

When polishing stemware, hold each glass by the bowl with your weak hand and use a glass polish cloth to wipe the wine glass interior and exterior. Avoid leaving fingerprints on the bowl.

Finally, give a quick polish to the stem and base, and store your stemware safely until your next drinking session.
Tips For Polishing Glassware Perfectly
Crystal-stemmed glassware can crack if you are not careful. Holding a wine glass by the base or stem while polishing will result in a broken stem.
Use a second cloth (or an XL-sized cloth) to hold the wine glass while polishing to prevent fingerprints.
Polish glass with steady rubs; go clockwise if you are right-handed and counterclockwise if left-handed.
Use steam to clean hard-to-remove stains, and rinse the wine glasses with mixed vinegar and water if the wine glasses are cloudy.
Inspect the wine glasses after polishing them to ensure you don't miss a spot.
Most importantly, when polishing glassware, don't rush it! Take your time.
A Polishing Cloth is Your Friend
The only thing you need to polish your wine glasses confidently is a proper polishing cloth—not just any fabric will do. The best way to ensure spotless wine glasses is by using a microfiber cloth, ideally made with a combination of polyester and polyamide. This material is gentle on the crystal but tough on residue and stains.
Explore Grassl Glass wine accessories and complete your set for professional wine tastings and enjoyable dinner parties. Having polished glassware is the least you can do to ensure your fine wine looks (and tastes) its best.