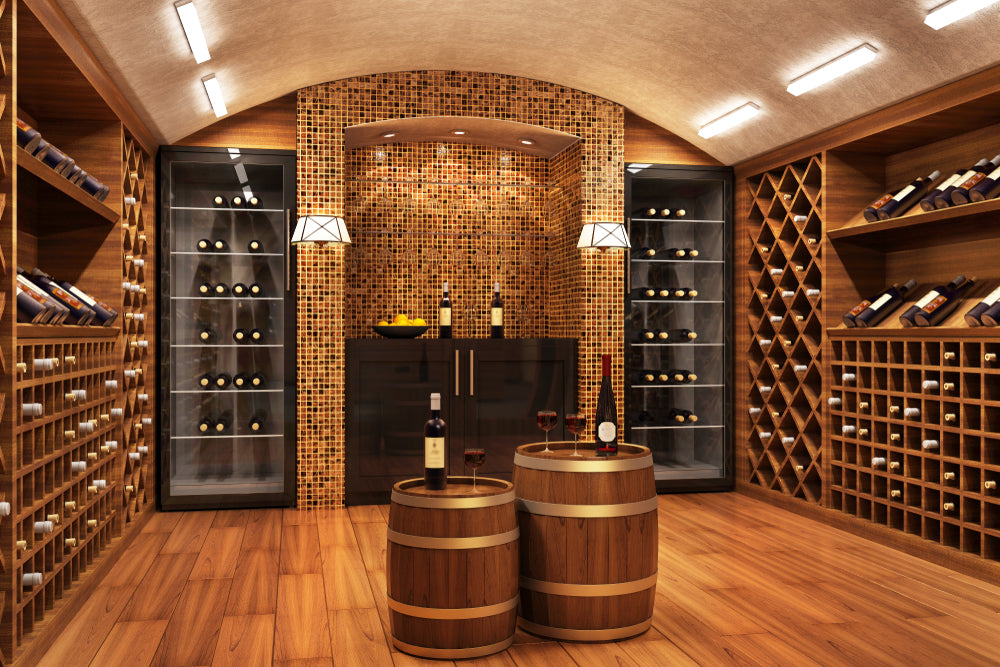 5 Best Wine Fridges for Storing Your Wine
Storing wine in the right conditions can be the difference between having a collection you're confident in and a collection with unpredictable results. When it comes to wine, no one likes surprises.
Although having an underground cellar in your home is every wine lover's dream, most of us have to settle for more convenient wine storage alternatives, like wine fridges. The question is, how do you choose the right one? Well, it depends because we all have different needs. However, a few key tips can help you select the right wine fridge. Here are the best wine fridges for storing your wine.
Why You Should Store Your Wine in a Dedicated Fridge
Wine is best enjoyed at cool room temperatures, so storing it near its ideal serving temperature makes sense. Wine fridges do just that—keep wine cool for optimal enjoyment.
But wine fridges are more than just coolers; they preserve the wine's integrity. Low temperatures cause the wine to evolve slowly, preventing it from peaking and decaying too fast. This might not be all that important for everyday wines you'll enjoy during the weekend, but it is critical for storing wine long-term.
A wine fridge is convenient for both small and large wine collections and adds a wine theme to your home décor. A suitable wine fridge is more than an appliance; it's a testament to your passion for wine.
So, what's the difference between a wine fridge and a regular kitchen fridge? Kitchen refrigerators keep food at a steady 40°F in a cold and dry environment (too cold and dry for wine). Wine refrigerators are often warmer and don't keep moisture away, keeping wine at an ideal 50-60°F range.
5 Wine Fridges for Every Type of Collector
There are many types of wine storage units, and the way they work varies. They also come in all shapes and sizes, so there's no best wine fridge out there. There's only the best model for you and your needs.
Below you'll find five reliable wine fridge models from brands we've found to be faithful. This doesn't mean there aren't better alternatives out there, but these will give you an idea of what to look for, whether you're looking for a small unit, a large fridge, or an under-counter solution.
1. Best Overall Wine Fridge
EuroCave Pure L Dual Zone Wine Cellar
For professional collectors and those looking to build a respectable collection, the Eurocave Pure L is amongst the best on the market. The brand is well known, with both restaurants and collectors relying on it. The system's dual zone allows for red and white wine storage, with 170 standard Bordeaux Bottles capacity. This wine fridge is also beautiful, especially for a stand-alone option.
2. Best Budget-Friendly Wine Fridge
Wine Enthusiast VinoView L 145 Smart Wi-Fi Dual Zone Wine Cellar
Wine Enthusiast's brand of wine fridges is competitive and less expensive than other popular brands. These models, like the Wi-Fi Dual Zone, are smart and incredibly spacey. An inverter compressor keeps the unit cool and quiet, and the alternating racks allow for various bottle shapes. This unit is ideal if you're on a budget and you have a varied wine collection.
3. Best Mini Wine Fridge
This little guy holds 30 bottles and keeps them cold behind two tempered glasses encased in a stainless-steel unit. The fast-cooling compressor is quiet and energy-efficient, and the racks are easy to remove for maintenance checks. The small unit can also reach surprisingly low temperatures of up to 41°F, which is ideal for storing even sparkling wine at service temperature.
4. Best Large Wine Fridge
Lanbo Single Zone Large Wine Cabinet
This massive wine fridge holds up to 289 standard Bordeaux bottles, all neatly arranged in elegant wood racks behind tempered glass. The rest is stainless steel. This 196-pound monster can hold entire collections and preserve them with high efficiency. It's also less pricey than smaller models from better-known brands.
5. Best Luxury Wine Fridge
Summit 36" Under-counter Dual Zone Wine Cooler
Luxury doesn't always mean expensive, and that's what you get with brands like Summit: high-quality materials, excellent functionality, and a lovely design. The 36-inch dual zone cooler is an under-counter unit with two doors and space for 68 standard bottle sizes. You can adjust the temperature of each zone with its digital controls.
Wine Storage Tips to Keep in Mind
Storing wine is different for everyone. The space available, the size of your collection, and even the climate determine what's best for you. Nevertheless, the tips below should serve you in all cases.
Keep your wine collection at the proper storage temperature, between 50-60°F, no matter the style. Remember, this might not be the appropriate serving temperature for all types of wine.

Keep your wine away from heat sources, direct sunlight, and strong odors, like chemicals and food.

Store wine for future enjoyment, not just for the sake of storing it. Always have a few bottles in hand for immediate consumption.

Most white wine is still drinkable three years after the vintage, and regular red wines are still enjoyable five years after. Only the finest and most concentrated wine will improve over time.
Notes from Chris
Size matters. Bigger is not always better. Consider your drinking habits and the scope of your wine collection before purchasing a storage unit. Too small, and you'll need to replace it too soon; too large, and you'll waste space and energy.
The right racks for you. Not everyone talks about this, but many cellars have static wine racks, which are troublesome to clean and maintain. Look for wine fridges with rolling shelves. Of course, the rolling racks sometimes scratch the bottles' labels on the shelf below, so keep that in mind.
Not all bottles are the same. One of the newbie wine collector's biggest mistakes is not considering the size and shape of the bottles they plan to collect. Burgundian bottles have a larger punt and don't always fit in all racks. The same goes for sparkling wine bottles. Bordeaux-style bottles are easier to handle as they're slimmer. The capacity of a wine fridge is different for all types of bottles but is generally quoted in Bordeaux bottles.  Reduce that figure by up to 20% for odd bottles or larger shapes like Turley, SQN, and Champagnes.
Stand-alone or built-in. Built-in wine fridges are truly beautiful, as they blend seamlessly into your decor. However, they're not always possible; they're more costly, and you can't easily take them with you if you move. On the other hand, stand-alone units can be bulky and take up too much space.
Number of zones. Some wine fridges have a single storage section while others have two distinct zones, allowing you to store different wine bottles at different temperatures. You might want a dual-zone fridge if you collect similar amounts of red and white wine.
Do your research.
Although the size and look of wine fridges are essential, you should also look into their stats to determine their true worth. Things like the unit's rating (r-rating), or insulation, and its mechanism, whether a compressor or a thermoelectric system are important. These are complex appliances after all, so ensure your unit has the right specs. The good news? Most wine fridges from reputable brands work like a charm, and you need not worry too much about the technical stuff.