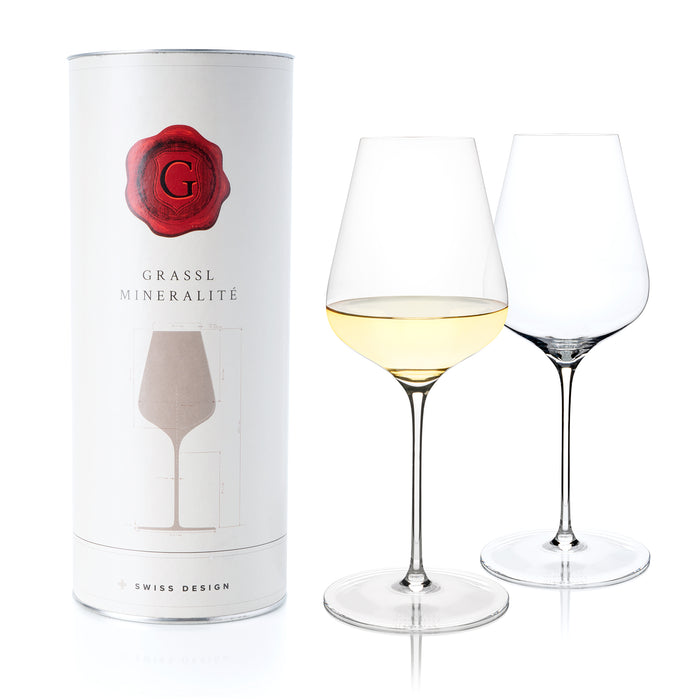 Grassl Mineralité | Vigneron Series Wine Glasses
Original price
$68.00
-
Original price
$408.00
The Mineralité wine glass's design, with an ample bowl to assist with allowing the wine to open is complemented by a narrowing chimney bringing focus and precision to the nose. The Grassl Mineralité wine glass is ideal for acidic wines with verve. Terroir shines through with this wine glass.

Wine Style

Light-Bodied White & Sparkling
Product Specs

Volume: 430ml
Height: 210mm
Width: 90mm
Mouth Opening: 60mm
Base: 90mm
Crystal: Non-Lead
Type of Manufacturing: Mouth-Blown
Glass Replacement Program

We offer a replacement program for Grassl Glass glassware that helps you save on breakage costs. When you buy and register a glass, you can replace it once for a flat fee of $50 (+ shipping). For instance, if you buy a six-pack of 1855's, you can take advantage of this replacement offer up to six times.

To qualify this program, simply register your glassware within 14 days of receiving them and be an active subscriber on the CJF Selections email list.
Returns & Guarantee

Orders have a 30-Day Easy Return and our glassware is backed by a Lifetime Satisfaction Guarantee. If, for any reason at all, you no longer care for the glass, you can return it to us for reimbursement at your original purchase price. The glass must be returned to us in original form (not broken) and free of damage from misuse, improper cleaning or abuse.
Availability:
in stock, ready to be shipped
Availability:
in stock, ready to be shipped
Availability:
in stock, ready to be shipped
Availability:
in stock, ready to be shipped
Availability:
in stock, ready to be shipped
Availability:
Out of stock