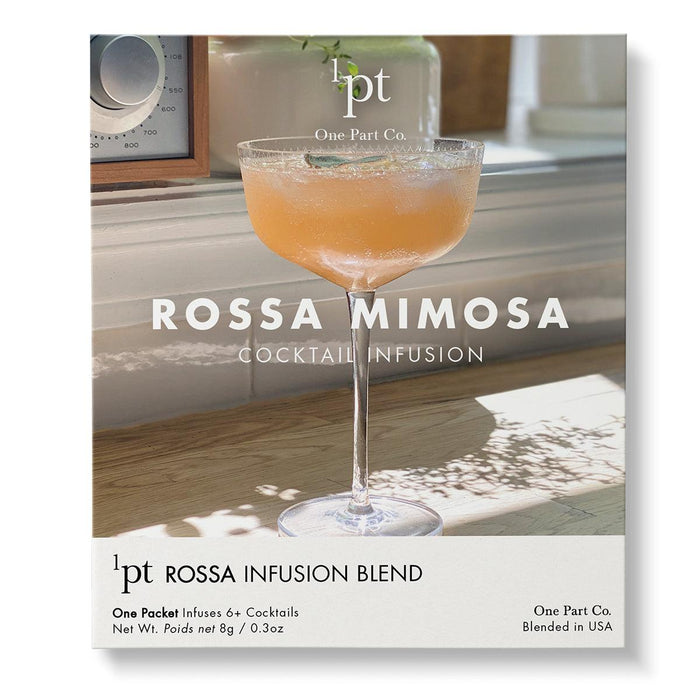 Rossa Mimosa
Original price
$8.00
-
Original price
$8.00
INFUSES 375ML OF SPIRITS / MAKES 6+ DRINKS
ROSSA MIMOSA ~ the ideal brunch companion. A luxurious infusion mingling of tart hibiscus and rich Mediterranean citrus are the perfect complement to fresh orange juice and sparkling white wine. When your guests ask your secret, take the credit. We won't tell...
1PT ROSSA INFUSION...
Infusion Time: 3-4 hours
Ingredients: Hibiscus, Grapefruit Zest, Orange Zest, Omani Lime
Contains no sugar, gluten, dairy, GMO, or any artificial additives
MAKING THIS COCKTAIL AT HOME...
Quickly infuse your vodka with this 1pt infusion blend (just like making tea, except with vodka instead of water).  Follow the simple recipe (included) to combine your Rossa-infused vodka, orange juice, and sparkling wine in a tall glass.  Orange or sage leaf garnish.
INCLUDED...

1pt Rossa Infusion Blend Packet

 

(infuses 375ml of spirits, makes 6+ drinks)
Pack-embedded

 

QR Cocktail Hub

 

provides one-click convenience right to your phone, including this cocktail recipe, handy How-To's, cocktail hour playlists and access to special offers and discounts.
Infusion instructions and infusion blend descriptions in dropdowns below.

Origin: USA
Wine Style

Full-Bodied White & Sparkling
Product Specs

Height: 230mm
Width: 92mm
Mouth: Opening: 62mm
Base: 92mm
Crystal: Non-Lead
Type of Manufacturing: Mouth-Blown
Availability:
in stock, ready to be shipped