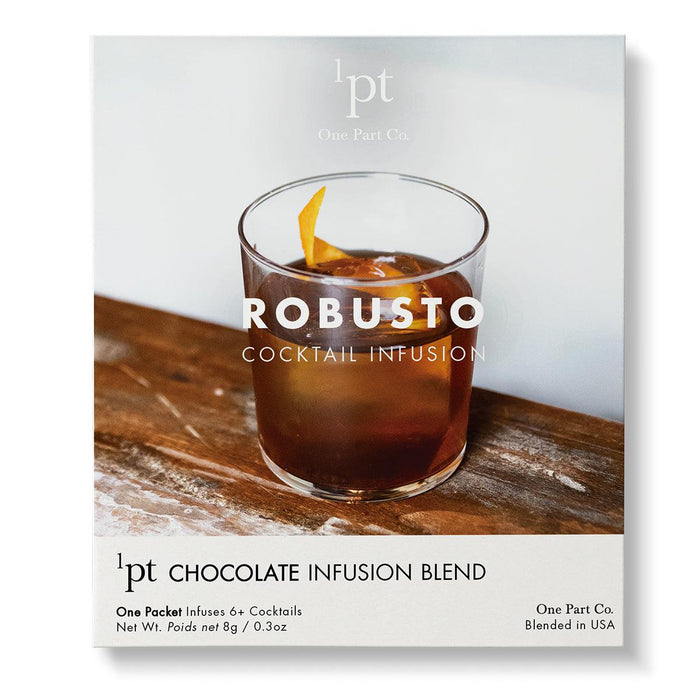 Robusto
Original price
$8.00
-
Original price
$8.00
INFUSES 375ML OF SPIRITS / MAKES 6+ DRINKS
ROBUSTO ~ an unexpected masterpiece. Chocolate-infused tequila may sound a bit adventurous to begin with, but trust us when we say this cocktail is an absolute gem! Just 3 ingredients, but the combination of chocolate and coffee activates an innate earthiness in tequila, accented here by just a hint of orange. Perfectly balanced, truly superb.
1PT CHOCOLATE INFUSION...
Infusion Time: 5-6 hours
Ingredients: Vanilla Rooibos, Cacao Shells, Marigold Petals
Contains no sugar, gluten, dairy, GMO, or any artificial additives
MAKING THIS COCKTAIL AT HOME...
Quickly infuse your tequila with this 1pt infusion blend (just like making tea, except with tequila instead of water).  Follow the simple recipe (included) to combine your Chocolate-infused tequila, cold brew coffee, simple syrup, and bitters in a shaker.  Serve up or over ice in any glass you like.  Orange twist garnish. Browse this cocktail recipe.
INCLUDED...

1pt Chocolate Infusion Blend Packet

 

(infuses 375ml of spirits, makes 6+ drinks)
Pack-embedded

 

QR Cocktail Hub

 

provides one-click convenience right to your phone, including this cocktail recipe, handy How-To's, cocktail hour playlists and access to special offers and discounts.
Infusion instructions and infusion blend descriptions in dropdowns below.
Origin: USA
Wine Style

Full-Bodied White & Sparkling
Product Specs

Height: 230mm
Width: 92mm
Mouth: Opening: 62mm
Base: 92mm
Crystal: Non-Lead
Type of Manufacturing: Mouth-Blown
Availability:
in stock, ready to be shipped