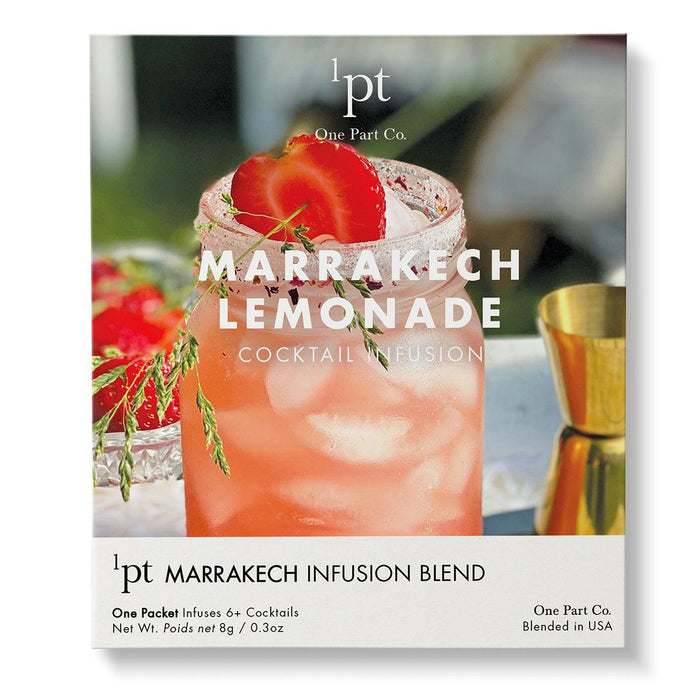 Marrakech Lemonade
Original price
$8.00
-
Original price
$8.00
INFUSES 375ML OF SPIRITS / MAKES 6+ DRINKS
MARRAKECH LEMONADE ~ pure ambrosia.  Actually modeled after the famous North African confection of the same name.  Rich cacao and cardamom support aromatic floral notes of rose and hibiscus redolent of the ancient Silk Road.  A simple combination of infused gin with lemonade (either built or bought) makes for a cocktail with a layer of old-world sophistication.
1PT MARRAKECH INFUSION...
Infusion Time: 3-4 hours
Ingredients: Cardamom, Keemun Black, Cacao Shells, Hibiscus, Rose Petal
Contains no sugar, gluten, dairy, GMO, or any artificial additives
MAKING THIS COCKTAIL AT HOME...
Quickly infuse your gin with this 1pt infusion blend (just like making tea, except with gin instead of water).  Follow the simple recipe (included) to combine your Marrakech-infused gin, fresh lemon juice, simple syrup, and water in a shaker. Serve up or over ice in any glass you like.  Sliced strawberry garnish.
INCLUDED...

1pt Marrakech Infusion Blend Packet

 

(infuses 375ml of spirits, makes 6+ drinks)
Pack-embedded

 

QR Cocktail Hub

 

provides one-click convenience right to your phone, including this cocktail recipe, handy How-To's, cocktail hour playlists and access to special offers and discounts.
Infusion instructions and infusion blend descriptions in dropdowns below.

Origin: USA
Wine Style

Full-Bodied White & Sparkling
Product Specs

Height: 230mm
Width: 92mm
Mouth: Opening: 62mm
Base: 92mm
Crystal: Non-Lead
Type of Manufacturing: Mouth-Blown
Availability:
in stock, ready to be shipped